---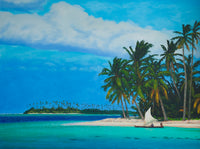 Sale
As you look at "San Blass Breezes", you can almost feel the gentle sway of the ocean and the warmth of the sun on your face. Matthew Tomlet has perfectly captured the serenity and beauty of this tropical paradise, with its crystal-clear waters and sandy beaches.
The sailboat is the centerpiece of the painting, its crisp white sails billowing in the breeze as it glides effortlessly through the water. In the background, you can see one of the many islands that make up the San Blas archipelago, with its lush vegetation and sandy shores.
This painting is more than some acrylic on canvas – it's a reminder of the beauty and tranquility that can be found in nature. It inspires us to take a moment to appreciate the world around us and to seek out the peace and solitude that can only be found in remote, untouched places like the San Blas Islands. Hang it on your wall and let it transport you to a world of beauty and serenity.
The canvas material is thick and durable, ensuring that your print will look and feel high quality. The colors are rich and vibrant, making the image come to life on your wall. And, with our free shipping offer, you can have this beautiful print delivered right to your doorstep without any additional cost. 
And now, for a limited time, we are offering this beautiful painting at a special sale price! Don't miss out on this opportunity to bring a piece of the San Blas Islands into your home. Order now and let this painting transport you to a world of beauty and serenity.