---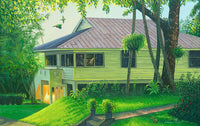 Sale
As you look at this painting of a Gamboa house, you can almost feel the warmth of the sun on your face and hear the rustling of the leaves in the breeze. The colors are rich and vibrant, bringing the scene to life before your eyes.
The house itself is a beautiful blend of old and new, with classic architectural details and a modern, vibrant paint job. You can almost picture yourself sitting on the porch, sipping a cold drink while hearing the croaking of distant toucans, and watching capuchin monkeys jump from tree to tree.
This painting is more than just a piece of art – it's a window into a world that is both familiar and exotic, evoking feelings of nostalgia and longing. Let it transport you back to the Canal Zone, and give you a glimpse into the Zonian way of life which is rich and full of beauty.
The canvas material is thick and durable, ensuring that your print will last for years to come. The colors are rich and vibrant, making the image come to life on your wall. And, with our free shipping offer, you can have this beautiful print delivered right to your doorstep without any additional cost.